Book Brahmin: Pam Cady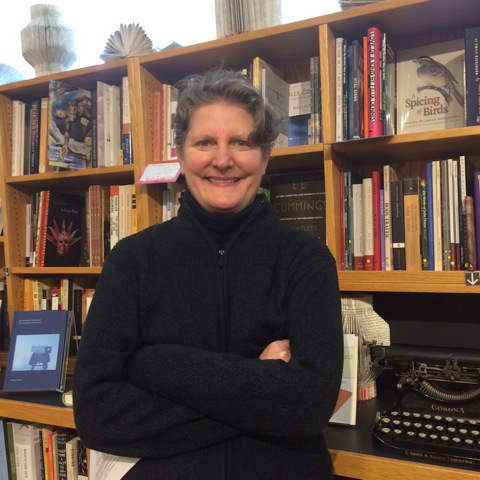 photo: Anna Micklin
Pam Cady has been in the book business since 1981, when she accepted her first job after moving from Rhode Island, as a bookseller for B. Dalton Bookseller in Torrance, Calif. After that she helped run a small independent shop in Long Beach, Calif. She and her family moved to Seattle, and in 1997 she joined the part-time staff at University Book Store. After working at several branch stores and a long stint in the children's department, Pam became assistant manager of the general books department at the flagship store in 2007, and in 2013 she became the manager. Pam is proud to work with a staff of smart and passionate booksellers who go to great lengths to put the right books in the hands of readers. An art lover, Pam's truest book love is picture books.
On your nightstand now:
The Cloud of Unknowing by Anonymous, Bettyville by George Hodgman, Boo by Neil Smith, In a Dark Wood by Joseph Luzzi, Dinner with Buddha by Roland Merullo, Agnes Martin: Her Life and Art by Nancy Princenthal and My Favorite Things by Maira Kalman.
Favorite book when you were a child:
Charlotte's Web. It remains one of my favorite books of all time.
Your top five authors:
My top five authors of the last several months: Hanya Yanagihara, Lin Enger, John Benditt, Anthony Doerr and Marianne Dubuc.
Book you've faked reading:
I faked reading half of it. When I was in high school, I read only half of The Scarlet Letter. Sorry, Mrs. Downs.
Book you're an evangelist for:
Well, I've spoken everyone's ear off about The Boatmaker by John Benditt already, so now I'm crazy for A Little Life by Hanya Yanagihara. I fell hard for Jude. I don't know when I've been more in love with a character before. But it just wrecked me.
Book you've bought for the cover:
Anything by Maira Kalman. And I've never been disappointed. I feel like I have a long-distance love relationship with Maira that only I know about.
Book that changed your life:
The Outsiders by S.E. Hinton. That book made me a true reader. Before that I really couldn't sit still long enough to read (to myself).
Favorite line from a book:
"All I hope to say in books, all that I ever hope to say, is that I love the world." –E.B White, Letters
Which character you most relate to:
Mo from The Essential Dykes to Watch Out For by Alison Bechdel. If I was a graphic novelist, I'd want to be Alison Bechdel.
Book you most want to read again for the first time:
Me Talk Pretty One Day by David Sedaris. I was sitting in my living room, laughing so hard at David learning to speak French that my daughter ran up the stairs to make sure I wasn't having a heart attack. But mostly, I don't read back. It's always finding that next book that I'll want to read again for the first time.